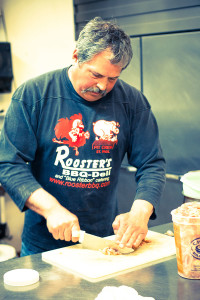 Rooster's BBQ Deli and "Blue Ribbon" Catering features award winning pressure-fried chicken, pulled pork sandwiches, barbecue ribs and barbecue chicken.  Dry rub is used to create the legendary flavor that makes Rooster's a Twin Cities' favorite.  This independent, family-owned restaurant offers eat-in, take out, party food and catering for small and large events, working to keep the best reputation in barbecue since 1987!  Call ahead or order online and your order will be ready when you arrive.
Welcome to "2 booths and barbecue"… the small eat-in area has been serving tasty barbecue lunches and rib or chicken dinners for over 25 years.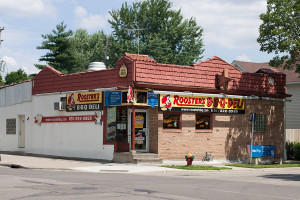 Rooster's "Blue Ribbon" catering for corporate, social or family events allows you to pick up party food at the store or have food delivered to your event location with items packaged in bulk, ready for buffet-style service.  Party food delivery service is limited – based on availability and delivery charges may apply.
For on-site catering, we can set up the country-style grill and cook delicious barbecue meats (steaks, ribs, chicken, brats or hamburgers) for you and your guests while providing all the fixings.
Awards
2016 "Best in Minnesota" – MSN: The Best Fried Chicken in All 50 States
2011 "Best Fried Chicken" – Mpls St Paul Magazine [Best of the Twin Cities]
2010 "Best Barbecue" – Mpls St Paul Magazine [Best of the Twin Cities]
2008 "Favorite Hole in the Wall" – Twin Cities Metro Magazine
2007 "Best Barbecue" – City Pages Best of the Twin Cities
1997 "Best Memphis-style Ribs" – Mpls St Paul Magazine [Best of the Twin Cities]
1995 "State Champs" – St. Paul Rib Buddies Cook-off and Show off
1996 "Minnesota's Best BBQ" – River Feast on Harriet Island, St. Paul